Description
L'Oustau de Baumanière accueille vos petits gastronomes et propose un cours de pâtisserie avec notre jeune chef pâtissier Brandon Dehan, qui leur transmettra petites astuces, techniques simples et pratiques pour apprendre aux enfants à cuisine desserts et petites douceurs.
Un goûter-dégustation aura lieu à l'issue du cours.
L'Oustau de Baumanière welcome your little gastronome and offer a pastry class with our young Pastry Chef Brandon Dehan. He will pass on his tips and some easy and practical techniques to cook desserts and little sweets.
At the end of the class, children will taste their creations.
Chef
Chef ospiti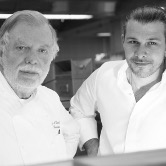 Jean-André Charial
(Baumanière Les Baux de Provence)
Brandon Dehan - Pastry Chef at l'Oustau de Baumanière
Ulteriori informazioni utili
Cours de pâtisserie enfants à partir de 9 ans: 50€
14h à 16h30 suivi d'un goûter-dégustation
Groupe de 12 personnes maximum et 3 participants minimum
Équipement indispensable: chaussures confortables et tenue décontractée

secretariat@baumanière.com

Children's classes from 9 years old : 50€
2pm to 4:30pm followed by a degustation
12 persons maximum and 3 minimum
Equipment: comfortable shoes and clothes

secretariat@baumanière.com


Baumanière Les Baux de Provence
Chemin départemental 27
Mas Baumanière
13520 Les Baux-de-Provence
France, Metropolitan