Description
Pour la soirée du 8 novembre, nous aurons le grand honneur d'accueillir Aldo Vajra, l'un des vignerons italiens les plus doués de sa génération !
Il viendra vous parler du vignoble, des cépages oubliés qu'il fait renaître, mais aussi de son attachement au respect des sols et de la nature, et bien sûr de ses grands vins.
Mais il ne s'arrêtera pas là, puisqu'il vous proposera de déguster ses appellations d'exception en accord avec les mets imaginés tout spécialement par Nicolas Beaumann. Truffe blanche, coquilles Saint-Jacques, caviar, et autres magnifiques produits de saison vous permettront d'apprécier encore un peu plus la finesse et la complexité de ces superbes millésimes.
On 8th November evening, we will have the great honor to welcome Aldo Vajra, one of the most talented italian winemaker of his generation!
He will tell you about his winery in Barolo, the forgotten grapes he makes reborn, his attachment to respecting the soils and nature and all about his great wines of course.
Moreover, he will offer you to taste his exceptional designations paired with the dishes that Nicolas Beaumann has specially designed for the occasion. White truffle, scallops, caviar and other beautiful season products will enable you to appreciate all the more the delicacy and the complexity of these wonderful vintages.
Chef
Chef ospiti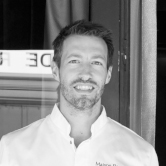 Nicolas Beaumann
(Maison Rostang)
Aldo Vajra - G.D.Vajra winery
Maison Rostang
20, rue Rennequin
75017 Paris
Francia