Unique experience
The very moment I saw this manor house, with its wild gardens, I fell madly in love. And now, all these years later, I still do. I knew instantly it was to be the perfect place for my cuisine. Belmond Le Manoir is a place of l'art de vivre and it's time to celebrate.
Description
"It's no wonder I'm full of excitement – 35 years! And I have been given Carte Blanche for my autumn night of great gastronomy and conversation. I have a very French menu to share with you, showcasing my favourite classics from Le Manoir. Each wine will be hand-picked from France. (I may throw in a little sparkling wine I have discovered from friends in Great Britain!)" Our celebrated host Raymond Blanc invites you to join him for dinner. What better way to discover the history of Belmond Le Manoir than by hearing tales from the man who made it his dream come true? From endlessly long days in the kitchen and transforming the unkempt gardens to the most resplendent potager and to designing elegant suites that dreams are made of, hear how Raymond continues to strive for perfection.
Other useful information
Includes Champagne Laurent-Perrier reception with canapés,four-course dinner with accompanying wines, coffee and petits fours.
Experiences to be offered
After a sensational Michelin-starred feast, retire to one of the manor house's 32 individually-designed hotel rooms—each one drawing inspiration from Raymond's travels. No matter which you pick, top-tier comforts combine with imaginative decor to create an irresistible hideaway.
Belmond Le Manoir aux Quat' Saisons
Church Road, Great Milton
OX44 7PD Oxford
United Kingdom
Host Chef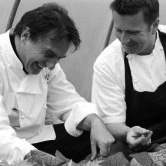 Raymond Blanc OBE and Gary Jones
(Belmond Le Manoir aux Quat' Saisons)