Description
Michel Hulin vous ouvre les portes de sa cuisine pour un moment exceptionnel à La Cabro d'Or.

Partagez un moment de convivialité accompagné par le son des guitares de la famille Romero.

Après vous être servis au buffet des entrées, passez en cuisine, observez les démonstrations des cuisiniers et découvrez leurs petits secrets.

Revenez en salle pour déguster vos desserts préparés par notre chef pâtisser.
Michel Hulin opens the doors of his kitchen for an exceptional moment in La Cabro d'Or.

Share a moment of conviviality accompanied by the sound of guitars of the Romero family.

After being served at the buffet of appetizers, go to the kitchen, watch the demonstrations of the cooks and discover their little secrets.

Return to the dining room to enjoy your desserts prepared by our pastry chef.
Host Chef
Invited Chefs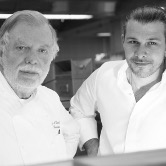 Jean-André Charial
(Baumanière Hôtel & Spa)
Michel Hulin, Chef at La Cabro d'Or
Other useful information
Tarif : 110€ / personne - boissons comprises
Places limitées, uniquement sur réservation.
Service réalisé en tables collégiales de 10 personnes.

Information & réservation : 04 90 54 33 07 ou contact@baumaniere.com
Price: €110 / person - drinks included
Limited places, only on reservation.
Service realized in collegiate tables of 10 people.

Information & booking: 04 90 54 33 07 or contact@baumaniere.com
Baumanière Hôtel & Spa
Mas de Baumaniere
13520 Les Baux-de-Provence
France