Description
Le 02 avril 2015, Stéphane Décotterd invite le célèbre Chef étoilé de l'Hostellerie du Pas de L'Ours, Franck Reynaud pour vous proposer un dîner exceptionnel.
Venez découvrir une cuisine en résonance avec des lieux d'exception et des produits locaux de saison. Venez partager la passion du beau et du bon.
On April 2nd 2015, Stéphane Décotterd invites the famous Grand Chef of L'Hostellerie du Pas de l'Ours, Franck Reynaud to offer you an exceptionnal dinner.
Discover a cuisine that is in harmony with the geographical location and reflects seasonal products. Come and share our passion for all that is good and beautiful in this world.
Host Chef
Invited Chefs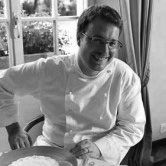 Stéphane Decotterd
(Restaurant Le Pont de Brent)
FRANCK REYNAUD
(Hostellerie Du Pas de L'Ours)
Restaurant Le Pont de Brent
4, route de Blonay
CH-1817 Brent/Montreux
Switzerland
Events linked to:
10 culinary events
03 feb. - 10 june 2015