Description
Jeudi 7 décembre, succombez à l'alliance subtile du caviar et de pièces de boeuf d'exception...

Le temps d'une soirée, il régnera comme un air de fêtes dans la salle du restaurant.
Le Chef Nicolas Beaumann a imaginé un menu associant des mets ponctués de caviar à des compositions autour de pièces de boeuf d'exception.

Votre palais sera comblé par ce voyage terre & mer, sans oublier leurs compagnons de route millésimés sélectionnés avec soin par notre sommelier.
Thursday 7th December, succumb to the delicate alliance of caviar and exceptionnel beef pieces...

That evening will be very festive at the restaurant.
For the dinner, the Chef Nicolas Beaumann has imagined a menu combining dishes punctuated with caviar and exceptional beef compositions.

Your palate will be fulfilled by this surf & turf journey, together with their vintage fellow travelers carefully selected by our chef sommelier.
Other useful information
Réservez-vite votre table pour vivre des grands instants de dégustation !

Par email ou par téléphone: 01 47 63 40 77

Menu Dégustation en accord mets et vins à 250 euros
Book quickly a table to enjoy those great tasting moments !

By email or by phone: +33 1 47 63 40 77

Food & Wine pairing tasting menu at 250 euros
Maison Rostang
20, rue Rennequin
75017 Paris
France
Host Chef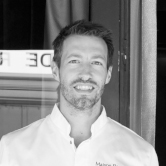 Nicolas Beaumann