Description
Pour vos proches ou vos invités, ou comment organiser votre repas de fin d'année en bénéficiant d'idées originales avec un scénario précis pour la gestion des différents services, tout en passant votre temps avec vos convives plutôt qu'en cuisine.
For your loved ones or your guests, how to organize your end-of-year meal by benefiting from original ideas with a precise scenario for the management of the different services, while spending your time with your guests rather than in the kitchen.
Other useful information
Début du cours : 14h30
Fin du cours : 17h30
Cours de cuisine : Fr. 200.- par personne
Repas à la suite du cours (4 plats avec boissons comprises): Fr. 165.- par personne
Forfait pour les 3 prestations (cours, repas et chambre): Fr. 510.- par personne
Forfait pour l'accompagnant (non participation au cours) : le forfait repas et une nuitée dans la même chambre avec petit déjeuner Fr. 330.- par personne.

Course Starts at: 14h30
End of the course: 17h30
Cooking class: CHF 200 per person
Dinner following the course (4 courses with drinks included): CHF 165.- per person
Package for 3 services (lessons, dinner and room): CHF 510.- per person
Package for accompanying person(not participating): the dinner and one night in the same room with breakfast CHF 330.- per person.

Restaurant & Hôtel Georges Wenger
2, rue de la Gare
CH-2340 Le Noirmont
Switzerland
Host Chef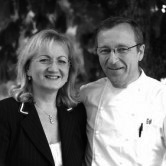 Georges Wenger
(Restaurant & Hôtel Georges Wenger)