Description
Jean-André Charial et le chef sommelier de L'Oustau de Baumanière, vous proposent des rendez-vous exceptionnels à la rencontre des vignerons qu'ils souhaitent mieux vous faire connaître.

À l'occasion de chaque soirée, les cuvées d'exception, sélectionnées spécialement pour nos convives, seront proposées avec un menu accord mets et vins élaboré par notre chef Glenn Viel pour un pur moment de dégustation gastronomique.

Le chef sommelier de L'Oustau de Baumanière, animera cette soirée en présence des vignerons et vous commentera les accords entre les plats et les vins servis à cette occasion.

Venez déguster en leurs compagnies des crus aux cépages somptueux et passez une soirée à échanger entre passionnés de vin et de gastronomie.

PROGRAMME 2020 :

Vendredi 27 Mars : "Bordeaux"
Vendredi 24 Avril : "Bourgogne"
Vendredi 22 Mai : "Chateauneuf-du-Pape"
Jean-André Charial and the head sommelier of L'Oustau de Baumanière, are offering exceptional meetings to meet the winemakers they want to make you known.

For each evening, the exceptional wines, specially selected for our guests, will be proposed with a food and wine pairing menu developed by our chef Glenn Viel for a pure moment of gastronomic tasting.

The head sommelier of L'Oustau de Baumanière, will animate this evening in the presence of the winemakers and will comment on the agreements between the dishes and the wines served on this occasion.

Come and sample their wines with sumptuous grapes and spend an evening exchanging wine and gastronomy enthusiasts.

2020 PROGRAMM :

Friday, March 27 : "Bordeaux"
Friday, April 24 : "Burgundy"
Friday, May 22 : "Chateauneuf-du-Pape"
Chef anfitrión
Chefs invitados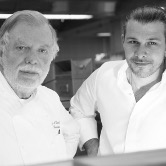 Jean-André Charial
(Baumanière Hôtel & Spa)
Glenn Viel, Chef at l'Oustau de Baumanière
Otras informaciones útiles
210€ / personne – boissons comprises

Menu servi en table collégiale de 10 personnes

Information et Réservation
Téléphone : 04 90 54 33 07 ou Mail : contact@baumaniere.com
€210 / person - drinks included

Menu served in collegiate table of 10 people

Information and Reservation
Telephone: 04 90 54 33 07 or Mail: contact@baumaniere.com
Baumanière Hôtel & Spa
Mas de Baumaniere
13520 Les Baux-de-Provence
Francia