Description
Animé par sa générosité et son sens du partage, Jean-André Charial propose de dévoiler ses secrets de création de recettes savoureuses et originales lors de cours proposés tout au long de l'année. L'occasion pour tous les amateurs de fine gastronomie d'apprendre le savoir-faire d'un grand chef ou de faire plaisir à leurs proches.

Les cours de cuisine ont lieu le dimanche à partir de 9h à La Cabro d'Or. A midi, et pour terminer en beauté, vous aurez le plaisir de déguster les plats que vous aurez préparés en compagnie du chef.

Dimanche 18 Novembre, le cours de cuisine portera sur les Coquilles Saint-Jacques.
Dimanche 09 Décembre, le cours portera sur le Menu des Fêtes.
Driven by his generosity and desire to share, Jean-André Charial is happy to reveal his culinary secrets during cooking classes that run throughout the year. A perfect opportunity for lovers of fine food to master the savoir-faire of the great chef.

Cooking classes at La Cabro d'Or are held on Sundays. You will meet in the kitchen at 9a.m and have the unique opportunity of spending time with our chefs. At noon, the class comes to a delicious end with lunch where you can savour the dishes you have prepared with the chef.

On Sunday November 18th, the class will be about Scallops.
On Sunday December 9th, the class will be about Festive Season Menu.
Chef
Chef ospiti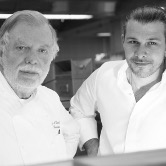 Jean-André Charial
(Baumanière Hôtel & Spa)
Michel Hulin, chef at La Cabro d'Or
Ulteriori informazioni utili
Cours de cuisine : de 9h à 12h suivi d'un déjeuner
• 10 personnes maximum (4 participants minimum) à La Cabro d'Or
• 135 € par personne repas inclus
• Repas accompagnant 85 € par personne


Cooking class: from 9am to midday, followed by a meal
• 10 persons maximum (4 minimum) at La Cabro d'Or
• 135 € per person, lunch included repas
• Lunch for guests 85 € per person
Baumanière Hôtel & Spa
Chemin départemental 27
Mas Baumanière
13520 Les Baux-de-Provence
Francia